How to Plan, Develop,
and Evaluate Training (PDET)
4 Day - ILT Workshop
---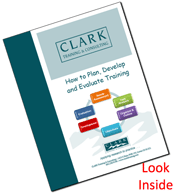 Why take this course
Over 130 billion dollars are spent annually on business and government training in the U.S. alone! How much of this investment realizes a return? Effective training that yields transfer to improved job skills requires more than subject matter expertise and presentation skills. Sound instructional strategies and systematic training design methodologies are needed to develop effective training programs.
Winner of the ISPI Outstanding Instructional Product Award
This hands-on, practical seminar was developed by Dr. Ruth Clark based on over 20 years of research and the work of Dr. David Merrill and Dr. Robert Horn, originator of Information Mapping.
In this four-day seminar you will develop your own lesson and in the process apply a research-based systematic approach to training design and development. You will gain the fundamental skills needed to design, organize, produce and evaluate your training programs.
You will learn how to
Apply the Instructional Systems Design (ISD) process when planning training
Conduct a job task analysis to define the audience, training content and course objectives
Distinguish between procedure and principle-based tasks
Create course and lesson outlines based on job task analysis data
Write learning objectives to match job task analysis data
Classify learning objectives into levels of performance
Classify instructional content as facts, concepts, processes, procedures, or principles
Design training materials based on instructional content classifications
Design valid practice exercises and tests
Plan four approaches to evaluate training success
Who should attend
Trainers who develop classroom or computer-based instruction
Training managers supervising development of training materials
Content, technical or subject matter expert with a full or part-time training assignment
Technical writers developing job-based manuals and references
Anyone who wants to learn the basics of instructional design
---
Price: $19,950 for up to 16 participants
100% satisfaction guaranteed
Looking for a course just for yourself? Look at our ONLINE PDET version
In a hurry to get your custom training program developed?
Check out our new customized seminars