Keynotes, Workshops & Books for Evidence-based Design and Development of Classroom and E-Learning Training:
Self study blended, Virtual classes, or In-person workshops
Clark Training & Consulting offers a full spectrum of training for workforce learning and development professionals. Workshops and keynotes focus on performance and training needs assessment, design of synchronous and self study e-learning, design, development and evaluation of classroom learning, and adult learning psychology. Presentations and workshops available
via in-person classes, individual self-study, or small group virtual classroom delivery. Dr. Clark offers consulting by previewing your e-learning products or goals and evaluating your courses or offering customized design-development consultation.
Our specialty is Evidence-based Training Methods. Ruth Clark's books and workshops incorporate the most current research evidence on what works in workforce instructional environments. We offer research-based guidelines for creating effective training courses for classroom or multimedia workforce learning. Check out our biggest selling course: How to Plan, Develop, and Evaluate Training - available for individual self-study, small group blended learning or 4 day onsite sessions.
Call us at (602) 359-1461, fill out the Contact Form, email Ruth or email Elaine.
ESSENTIALS of SCENARIO-BASED E-LEARNING
. 1.5 hours each day: December 3,4,5 and February 10,12,14 (2014) ASTD Essentials
2. New Book: Scenario-based e-Learning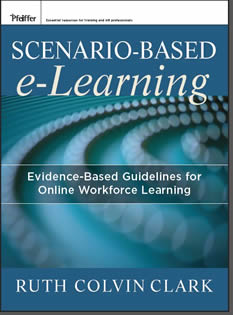 Learn the What, When, Why, and How of Scenario-based e-learning.
EVIDENCE-BASED TRAINING FOR INSTRUCTORS & DEVELOPERS OF WORKFORCE LEARNING
. 1.5 hours each day: November 4,6,8 March 17,19,21 (2014) ASTD Essentials
ISD PERFORMANCE-BASED CERTIFICATION PROGRAM
3 Classes - 3 Job Projects to Demonstrate Compency
ONSITES ONLY * Click here to review the program
INSTRUCTIONAL DESIGN: VIRTUAL TRAINING
Perfect for individuals or global teams: Take this course at your own pace
Each participant will complete a lesson using content from their organization during the class.
Includes skills in: Job and task analysis, writing learning objectives, outlining content,
identifying content types, writing lesson handouts and exercises, evaluating your training.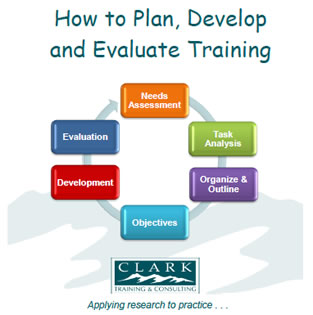 Graphics for Learning: