Needs Assessment for
Performance Technologists
3 Day - Instructor Led Seminar
---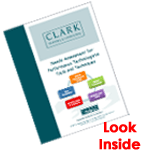 Why take this course
Too often money invested in training programs does not yield a return because training was NOT the RIGHT solution or the training provided was NOT the RIGHT training. In this course you will learn to recommend interventions, not necessarily training, that optimize organizational bottom-line outcomes.
You will learn how to
Define operational goals for your organization
Align solutions, including training to operational goals
Improve business processes and individual worker outputs
Plan and conduct group and individual interviews
Observe work products, procedures, and processes
Use observational data as the basis for recommendations
Plan evaluation at the time of needs assessment
Write effective needs assessment reports
Who should attend
Training professionals and managers chared with improving human performance in their organizations through training and other interventions
Trainers who need to define their training objectives, instructional content and delivery media to ensure their training meets organizational requirements
Human resource professionals
Performance consultants.
NOTE: We have found that due to the hands-on project nature of this course, best results are realized from individuals who either have some first hand working familiarity with an operational unit in their organization or who have started a needs assessment and have access to some needs assessment data from an operational unit.
---
Price: $14,950 for up to 16 participants

Register now ~ or ~ Request more information
In a hurry to get your custom training program developed?
Check out our new customized seminars
"I now see a clearer picture of what I need to focus my efforts on"
Jerry Hovis
Rockwell Collins